Boss Vapes have a lot to say about vaping and e-liquid, mods and even subohming. We have, special offers including e-cig discount codes and much, much more. Promotional Offers and competitions will be posted here for all to see. Check back a few times a week and don't get left behind in the fast paced world of vaping. Stay one step ahead and "Vape Like A Boss".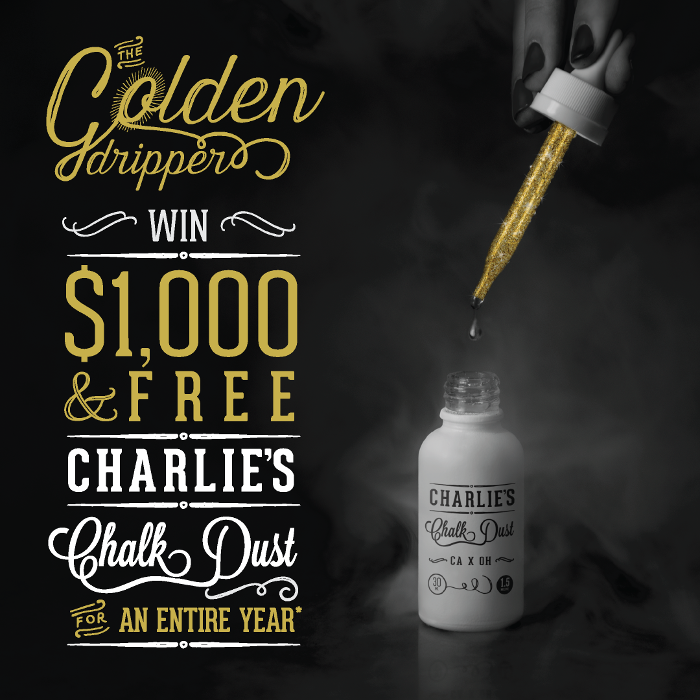 Will YOU find the GOLDEN DRIPPER?? @charlieschalkdust they have just launched 4 new IN-CREDIBLE flavors all in WHITE bottles. 5 LUCKY winners will receive $1,000 & a FULL LINE of their juice EVERY MONTH for a FULL YEAR!!! Rules:
A)Tag 3 friends
B)Repost (up to 3x)
C)Like their pic on instagram // follow their page
D)#whitelabel #goldendripper#charlieschalkdust #charliesgiveaway
They have created 5 GOLDEN DRIPPERS. The first will be given out to the winner of their IG contest. This means YOU could WIN by following the rules above. They will be choosing their winner at random on 11/22/2016.
Don't stress, if you don't win this time — you will have 4 MORE chances to WIN. Boss Vapes gives you that chance. Visit our online shop and ask for the NEW WHITE LABEL. Four bottles will contain the elusive GOLDEN DRIPPER and your ticket to a year's worth of Charlie's Chalk Dust! Oh, and $1,000
Let the games begin.
(Instagram giveaway only)
The lucky winner must verify age and possession of the elusive Golden Dripper, including proof of purchase. Please contact gold@charlieschalkdust.com if you think you won.
Boss Vapes will send out free T-shirts to the first 10 purchasers and other accessories for other buyers. This applies to Charlies Chalk Dust Only.
CLICK HERE TOGET YOUR CHALK DUST