PULSE SQUONK BF KIT BY VANDY VAPE - SPECIAL EDITION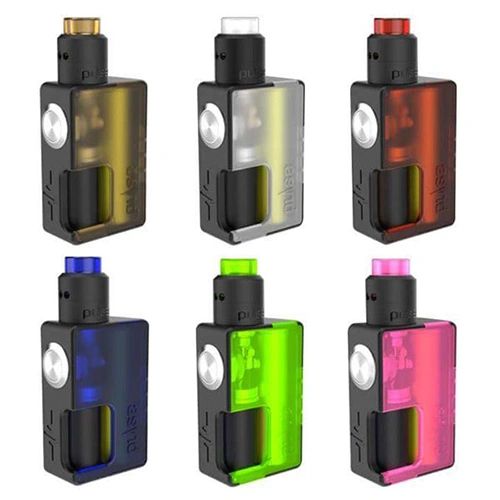 PULSE SQUONK BF KIT BY VANDY VAPE - SPECIAL EDITION
The Pulse Squonk BF Kit combines vaping best selling bottom feeder units, the Pulse box mod and the Pulse 24 RDA!
Now in all new colour ways, featuring translucent acrylic panels with matching drip tips with the RDA, this squonk kit is absolutely spectacular, a budget unit that doesn't compromise on quality or performance. The pulse 24 RDA is hands down one of the best RDA on the market, with its bottom feeder capability it's a convenient RDA with untouchable flavour production!
The Pulse squonk mod is one of the best selling for good reason, with a build quality matching 3D printed mods 5 times its price, it hits hard, performs outstandingly well, and is incredibly well made, and will give you a brilliant performance day after day.
Features Pulse BF Squonk Box Mod:
·        8ml Capacity
·        40A Maximum current
·        PEEK insulator
·        Copper contacts
·        Locking power safety switch
·        Material: Nylon + ABS
·        Spring loaded 510 threading connection
·        Magnetic Replaceable panels
·        Compatible with 18650 / 20700 battery (not included)
·        8ml food grade silicone bottle with a stainless steel cap
Features Pulse 24 BF RDA Special edition:
·        Designed in Collaboration with Tony B.
·        TPD submiited
·        Dimensions: 1-7/16" x 7/8" (Including Drip Tip and Threads)
·        24mm Diameter
·        Gold Plated 510 Contact Pin
·        1.0ml e-Liquid Capacity
·        Postless Build Deck for Single Coil Builds
·        Low Profile for Easy Coil Builds
·        Large Post Hole Screws
·        Direct Bottom Feed to Side Juice Wells
·        Unique Side Direct Airflow
·        Unique Leak Resistant Quadruple Airflow Slots
·        Adjustable Airflow Top Cap with Four Airholes
·        ULTEM Wide Bore Drip Tip
·        Includes Pre-installed Squonker Pin
·        Includes 510 Contact Pin Adapter
Package contents:
·        1x Pulse BF Squonk Box Mod
·        1x Pulse 24 BF RDA Special edition
·        1x 8ml Silicone Squonk Bottle
·        1x 18650 Battery Adapter
·         1x User manual
Reviews
Featured Products