SMOK E-PRIV 230W SUB OHM VAPE KIT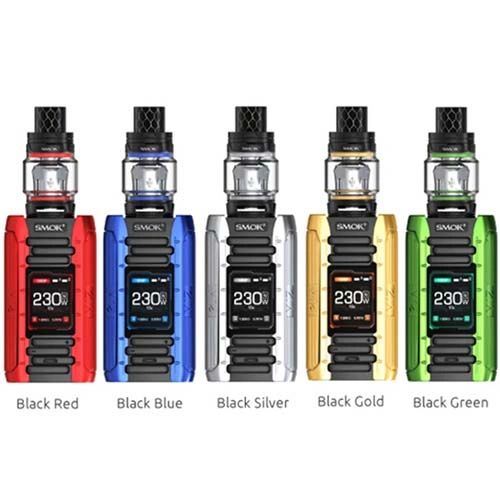 SMOK E-PRIV 230W SUB OHM VAPE KIT
The Smok E-Priv Kit, features a sub ohm vape device powered by dual 18650 vape batteries (sold separately). The E-Priv has a 230W maximum output and has been designed for high wattage vaping. Each kit comes complete with the Smok TFV12 vape tank, that features a 2ml capacity and adjustable airflow.
The Smok E-Priv features a Zinc Alloy construction, that offers a balanced between durability and a reduced weight. A centre-mounted 1.45 Inch HD TFT Screen, clearly displays output modes, battery life and customisable themes - which can be controlled via the two operation buttons located under the screen. A large firing bar takes up one side of the device for a ergonomic feel.
The user has access to multiple output modes through the E-Priv. Variable Wattage Mode, allows for the power output to be directly reduced and increased up to 230W, to help you find a balance between cloud and flavour. Temperature Control Mode, allows for a maximum temperature to be set that your coil can not exceed, this stops coils from overheating and burning. Please note only certain vape wire types can be used in this mode.
The Smok TFV12 Prince Vape Tank included with the kit, has been designed for sub ohm vaping - creating increased cloud and flavour. A secure mechanism allows for quick and easy top filling. Featuring a TPD Compliant 2ml eliquid capacity, this Smok vape tank works best with High VG eliquids, of 60% VG and higher. Dual adjustable airflow allows for full control over inhale, for a tighter or looser direct to lung vape.
A range of Smok Coils are compatible with the TFV12 Prince Tank. The 0.15 Ohm V12 Mesh Coil comes pre-installed, designed for sub ohm vaping this vape coil uses a Kanthal Mesh; it features an increased surface area for faster heating and increased flavour. A spare V12 Prince K4 0.15 Ohm Coil comes with the kit, featuring a quadruple coil build for bigger clouds and clearer flavour.
Contains:
1 x E-Priv Mod

1 x TFV12 Prince Tank (EU Edition)

1 x 0.15 Ohm Prince Mesh Coil

1 x 0.15 Ohm Prince Q4 Coil

1 x USB Cable

1 x User Manual

1 x Spares Bag
Features:
230W Output

Requires dual 18650 Batteries

1.45 Inch HD Colour Screen

Variable Wattage Mode

Temperature Control Mode

2ml Tank

Adjustable Airflow

Multiple Coil Options
Reviews
Featured Products