SMOK TFV8 BIG BABY LIGHT EDITION VAPE TANK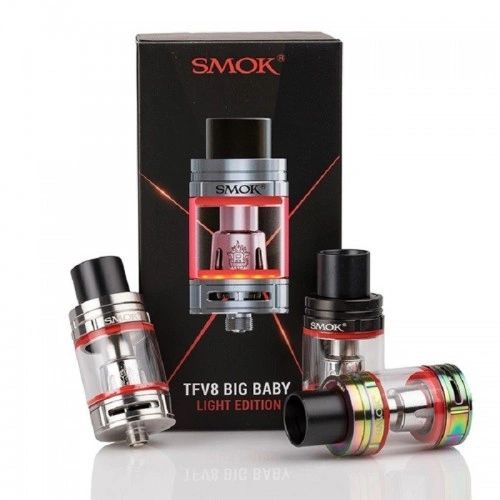 SMOK TFV8 BIG BABY LIGHT EDITION VAPE TANK
The Smok TFV8 Big Baby Light Edition is the bright and shiny sibling in the TFV8 Family of vape tanks, with its defining characteristic being its ability to light up in varying different colours when the tank is fired. Like it's non-light up conterpart, the TFV8 Big Baby LED Tank features a pyrex glass and stainless steel construction.
The LED TFV8 Big Baby comes with 6 pairs of coloured O-Rings that can be used to change the colour of the light to whatever combination you wish. Red, White, Green, Orange, Blue, Yellow and Purple.
Please Note: This LED version does not come with the replacement chimney, so it can only be used with Smok's standard EU coils that come as standard in the vast majority of their kits and tanks. The LED version of the TFV8 Big Baby will unfortunately not fit the rest of Smok's TFV8 Baby coil range using what comes packaged in the box.
Contains:
<!--[if !supportLists]-->·        <!--[endif]-->1 x TFV8 Big Baby Light Edition Tank (2.0ml)
<!--[if !supportLists]-->·        <!--[endif]-->1 x V8 Baby-Q2 EU 0.4 Ohm Dual Coil (Pre-installed)
<!--[if !supportLists]-->·        <!--[endif]-->1 x V8 Baby-Q2 EU 0.4 Ohm Dual Coil
<!--[if !supportLists]-->·        <!--[endif]-->1 x Replacement Glass Tube
<!--[if !supportLists]-->·        <!--[endif]-->1 x 510 Drip Tip Adapter
<!--[if !supportLists]-->·        <!--[endif]-->1 x User Manual
<!--[if !supportLists]-->·        <!--[endif]-->6 Pairs of Colour sealing O-Rings
<!--[if !supportLists]-->·        <!--[endif]-->Spare parts
Features:
<!--[if !supportLists]-->·        <!--[endif]-->2ml Capacity
<!--[if !supportLists]-->·        <!--[endif]-->Pyrex Glass
<!--[if !supportLists]-->·        <!--[endif]-->24.5mm Diameter
<!--[if !supportLists]-->·        <!--[endif]-->Stainless Steel Construction
<!--[if !supportLists]-->·         <!--[endif]-->LED light
Reviews
Featured Products