SMOK VENENO 225W VAPE KIT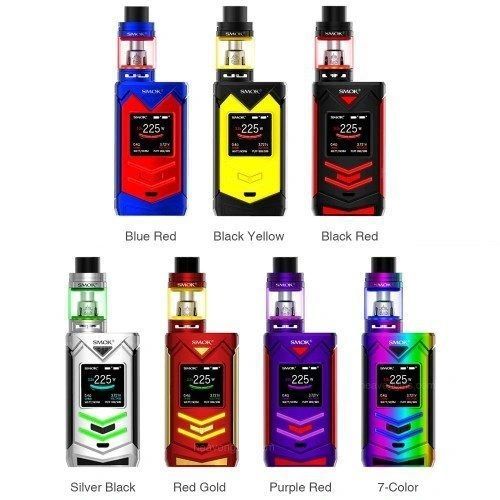 SMOK VENENO 225W VAPE KIT
The Smok Veneno Vape Kit features a 225W output along with Smok's TFV8 Big Baby LED Tank. It's been adorned with seven LED lights at both the dront and back of the mod, ensuring you can make pretty colours while you vape.
A 1.3inch colour screen details the necessary user information like puff counter, wattage, temperature; basically all the numbers. An ergonomic squeezed fire key makes it comfortable and easy to hold.
The Veneno kit comes with the Smok TFV8 Big Baby Light Edition Tank, which is similar to the stanard TFV8 Big Baby; it just also has the ability to light up when fired. Along with the tank are two Smok Coils, the standard EU Cores in 0.4Ω.
Please Note: This LED version of the TFV8 Big Baby Tank does not come with the replacement chimney, so it can only be used with Smok's standard EU coils that come as standard in the vast majority of their kits and tanks. The LED version of the TFV8 Big Baby will unfortunately not fit the rest of Smok's TFV8 Baby coil range using what comes packaged in the box.
Contains:
<!--[if !supportLists]-->· <!--[endif]-->1 x Smok Veneno 225W Vape Mod
<!--[if !supportLists]-->· <!--[endif]-->1 x Smok TFV8 Big Baby Light Edition Vape Tank
<!--[if !supportLists]-->· <!--[endif]-->2 x V8 0.4Ω EU Core Replacement Coils
<!--[if !supportLists]-->· <!--[endif]-->1 x Replacement Glass Tube
<!--[if !supportLists]-->· <!--[endif]-->1 x Pack of Coloured O-Rings (Six Pairs)
<!--[if !supportLists]-->· <!--[endif]-->1 x USB Cable
<!--[if !supportLists]-->· <!--[endif]-->1 x User Manual
<!--[if !supportLists]-->· <!--[endif]-->1 x Bag of Spare Parts
Features:
Smok TFV8 Big Baby Light Edition
<!--[if !supportLists]-->· <!--[endif]-->2ml Capacity
<!--[if !supportLists]-->· <!--[endif]-->Pyrex Glass
<!--[if !supportLists]-->· <!--[endif]-->24.5mm Diameter
<!--[if !supportLists]-->· <!--[endif]-->Stainless Steel Construction
<!--[if !supportLists]-->· <!--[endif]-->LED light
Smok Veneno Mod
<!--[if !supportLists]-->· <!--[endif]-->225W Output
<!--[if !supportLists]-->· <!--[endif]-->Seven LED Lights on Back & Front
<!--[if !supportLists]-->· <!--[endif]-->Colour Screen
<!--[if !supportLists]-->· <!--[endif]-->Ergonomic Fire Key
Reviews
Featured Products