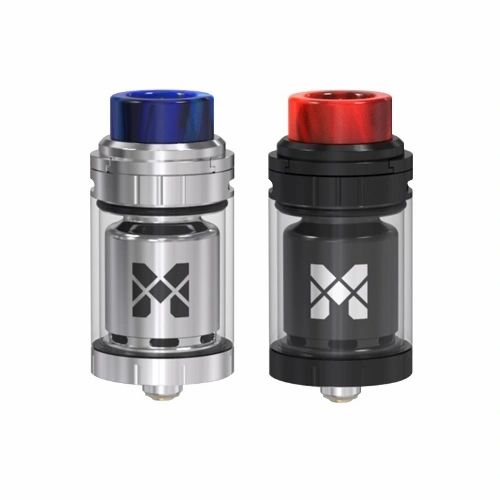 VANDY VAPE MESH 24MM RTA
The Vandy Vape Mesh 24mm RTA Vape Tank builds (no pun intended) on the mesh design they've become known for, this time instilling the design into a rebuildable tank atomiser.
The Vandy Vape Mesh 24mm RTA Vape Tank features a Leakproof design with a Top Adjustable Airflow. The RTA features a unique twin post design to effectively loop the Mesh Coil making it sit vertically.
This RTA comes with 3 different Drip Tips including an Ultum, Doc Tip and Stylish Resin Drip Tip. A bag of spare O rings and Post Screws, 2 x pre cut Mesh Wire 0.42 Ohm (300 Mesh) and 2 x precut Mesh Wire 0.57 Ohm (400 Mesh). This rebuildable tank also comes with a Bubble glass as a spare.
Contains:
·        1 x Vandy Vape Mesh 24 RTA
·        1 x Delrin Doc Tip
·        1 x Ultem Drip Tip
·        1 x Resin Drip tip
·        1 x accessory bag (includes spare O rings and post screws)
·        1 x Bubble Glass
·        2 x SS316L Mesh Wire 300mesh (0.42 Ohm)
·        2 x SS316L Mesh Wire 400mesh (0.57 Ohm)
·        1 x Manual
Features:
·        Pyrex Glass Tank
·        2ml capacity
·        Dual Cyclops Top Adjustable Airflow
·        Slide action Top Filling
·        Unique Build Deck
·        Dimensions: 39mm x 24.4mm
Important information regarding Pre-made Coils and Rebuildables:
This product is designed for experienced users, and for those possessing an ohm reader or multimeter to test their coils on.
This item requires a comprehensive understanding of the technicalities of vaping, along with knowledge of electronics and ohms law. We don't advise any beginners to start rebuilding coils without speaking to us or a knowledgeable shop. We do not recommend using this kind of product with a mechanical mod of any kind.
A rebuildable coil must be tested carefully on an ohms reader before it is used on a device. Not testing this properly may present a safety risk for the user, and no new coils should be used on an electronic vaping device until the coil is known to be safe.
Reviews
Featured Products