WATERMELON SLICES 25ML SHORTFILL BY TUCK SHOP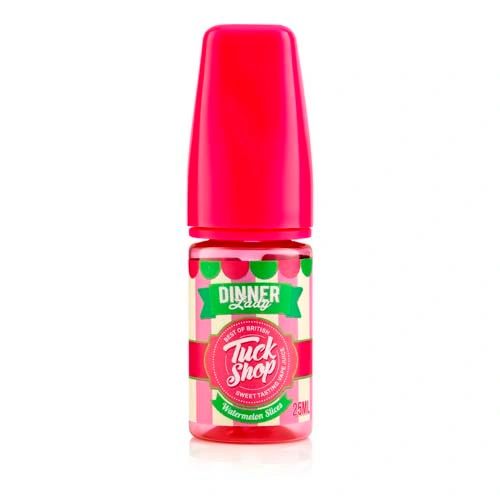 WATERMELON SLICES 25ML SHORTFILL BY TUCK SHOP
Watermelon Slices eliquid is inspired by the tuck shop classic, fizzy watermelon candy. Sweet and fresh tasting notes of watermelon get things started, followed by a burst of sour candy for a tarte afterbite.
Watermelon Slices is a 70% VG sub ohm blend, available in a 25ml shortfill bottle. Should you wish to vape with nicotine, we'd recommend you add 5ml (half) of a 10ml VG nicotine shot of your choice. This will create a 3mg, 30ml e-liquid.
Brought to you by Dinner Lady, Watermelon Slices is part of the Tuck Shop range. Dinner Lady is passionate about designing and producing authentic tasting flavours that will leave you feeling nostalgic, their Tuck Shop range will certainly remind you of your favourite candies.
25ml shortfill eliquid

0mg nicotine content

Room for 5ml nic shot

Made in the UK

Tamper evident and childproof bottles

70% VG blend for sub ohm vaping

Not recommended for pregnant or breastfeeding women

Not for use by anyone under 18 years of age
Reviews
Featured Products